Chapter 2 Release Commemoration Pick-Up: "Relief Request from the Emperor Himself"!

【最新更新】 2022/07/15 (Fri) 19:54
To all of our adventurers!
We are so grateful of your constant support and patronage of Anothereidos R!
In conjunction with the release of Chapter 2, a pick-up event featuring the characters making their debut is now available!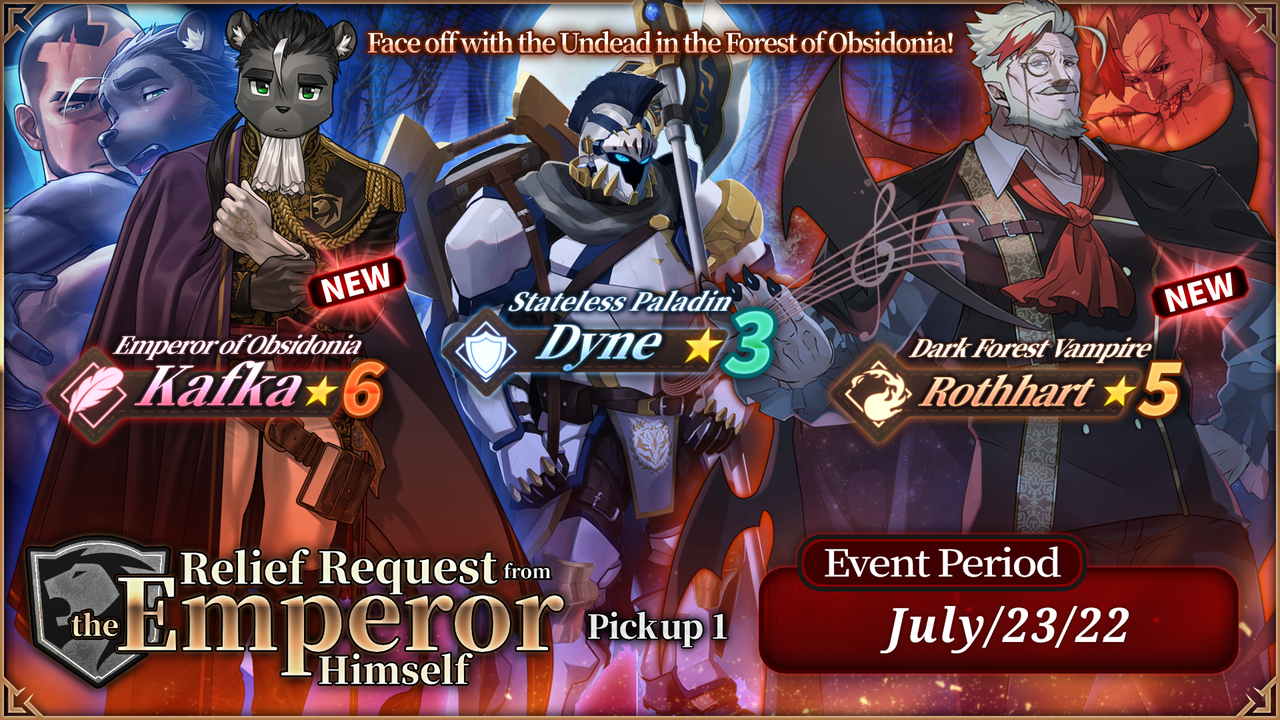 ★6 
NEW!

Kafka
Class: Vanguard

Nature: Noblesse Oblige

SP Recovery Speed +25% for all ally unit(s) including oneself.

Skill: Moonlit First Campaign

Attack Speed +30% for 25 seconds.

Attack 2 enemies simultaneously.
★5 
NEW!

Rotthart
Class: Caster

Nature: Prelude of Destruction

Decreases the DEF of all enemies within one's attack range by 10%

Skill: Grand Finale

ATK +25% for 30 seconds.
One of the following effects will randomly trigger when attacking: Absorbs 2% of damage dealt to enemies; stuns the enemy for 0.4 seconds; deals 40 additional damage to the enemy.
◯Pick-Up Rates
Note: Characters will appear with the bonus rates below added onto their existing rates.
★6
Kafka        1%
★5
Rothhart          1%
★3
Dyne       1%
◯Standard Rates
★6        Appearance Rate 2%
Jinnosuke / Zacharoff / Siddeley / Jalam
Theodor / Thomas / Bashkar / Bart
Billford / Edgar / Rasho/ Pino
Dakkar/ Volund/ Equus / Jade / Kafka
★5        Appearance Rate 10%
Rook / Sol / Brute / Hulk
Wrecker / Morgan / Yabsakha / Ragnar
Romanes / Sarutobi / Hanzo / Harimau
Stalon / Barlitz / Corca / Rothhart
★4        Appearance Rate 50%
Kagura / Karetovi / Lute / Thorkell
Nitro / Patty / Fu / Pugi
Rai / Leonhart / Ornis/ Alec / Lisa
★3        Appearance Rate 35%
Arcana / Elaine / Gymnos / Dyne
Baran / Bantu / Flet / Charlotte
Yurt / Robin / Amorey / Seals
Kongoh
○Interaction Quest Release Statuses
1

24/06/2022 Update
Still01
Still03
Still04

2

日本語
English
繁体中文
日本語
English
繁体中文
日本語
English
繁体中文

3

Leonhart
レオンハート
雷恩哈特
○
○
○
○
○
○

4

Amorey
アモレー
阿莫勒
○
○
○
○
○
○

5

Zacharoff
ザハロフ
扎哈羅夫
○
○
○

6

Seals
シールズ
席茲
○
○
○

7

Jalam
ジャラム
杰拉姆
○
○
○

8

Jinnosuke
ジンノスケ
迅之助
○
○
○

9

Nitro
ニトロ
尼特羅
○
○
○

10

Bashkar
バシュカー
巴修卡
○
○
○

11

Hulk
ハルク
浩克
○
○
○

12

Billford
ビルフォード
比爾福德
○
○
○
○
○
○

13

Flet
フレット
弗萊特
○
○
○

14

Yabsakha
ヤブサハ
亞布薩哈
○
○
○

15

Rai
ライ
靐
○
○
○

16

Ragnar
ラグナル
拉格納
○
○
○

17

Rook
ルーク
路克
○
○
○
○
○
○

18

Rasho
ラショウ
羅生
○
○
○

19

Fu
フウ
飍
○
○
○

20

Hanzo
ハンゾウ
半藏
○
○
○

21

Pirate
海賊
海賊
○
○
○

22

Robin
ロビン
羅賓
○
○
○

23

Pino
ピノ
皮諾
○
○
○
○
○
○

24

Dakkar
ダカール
達卡爾
○
○
○
○
○
○

25

Harimau
ハリマオ
哈里瑪歐
○
○
○
○
○
○

26

Hero
主人公
主角
○
○
○

27

Volund
ヴェルンド
維倫德
○
○
○

28

Stalon
スタロン
史塔隆
○
○
○

29

Barlitz
バーリッツ
巴里茨
○
○
○

30

Equus
エクウス
艾庫駟
○
○
○
○
○
○

31

Jade
ジェイド
桀德
○
○
○

32

Corca
コルカ
科爾卡
○
○
○

33

Edgar
エドガー
埃德加
○
○
○

34

Bart
バルト
巴髭
○
○
○

35

Kafka
カフカ
卡夫卡
○
○
○

36

Theodor
テオドール
狄奧多
○
○
○

37

Patty
パティ
帕提
○
○
○

38

Thorkell
トルケル
托基爾
○
○
○

39

Rothhart
ロットハルト
羅特巴托
○
○
○

40

Hellion
ヘリオン
赫里翁
○
○
○
○
○
○

41

Rougarou
ルガロゥ
羅牙狼
○
○
○