Patch Notes (Ver.2.3.2 1/20/2023)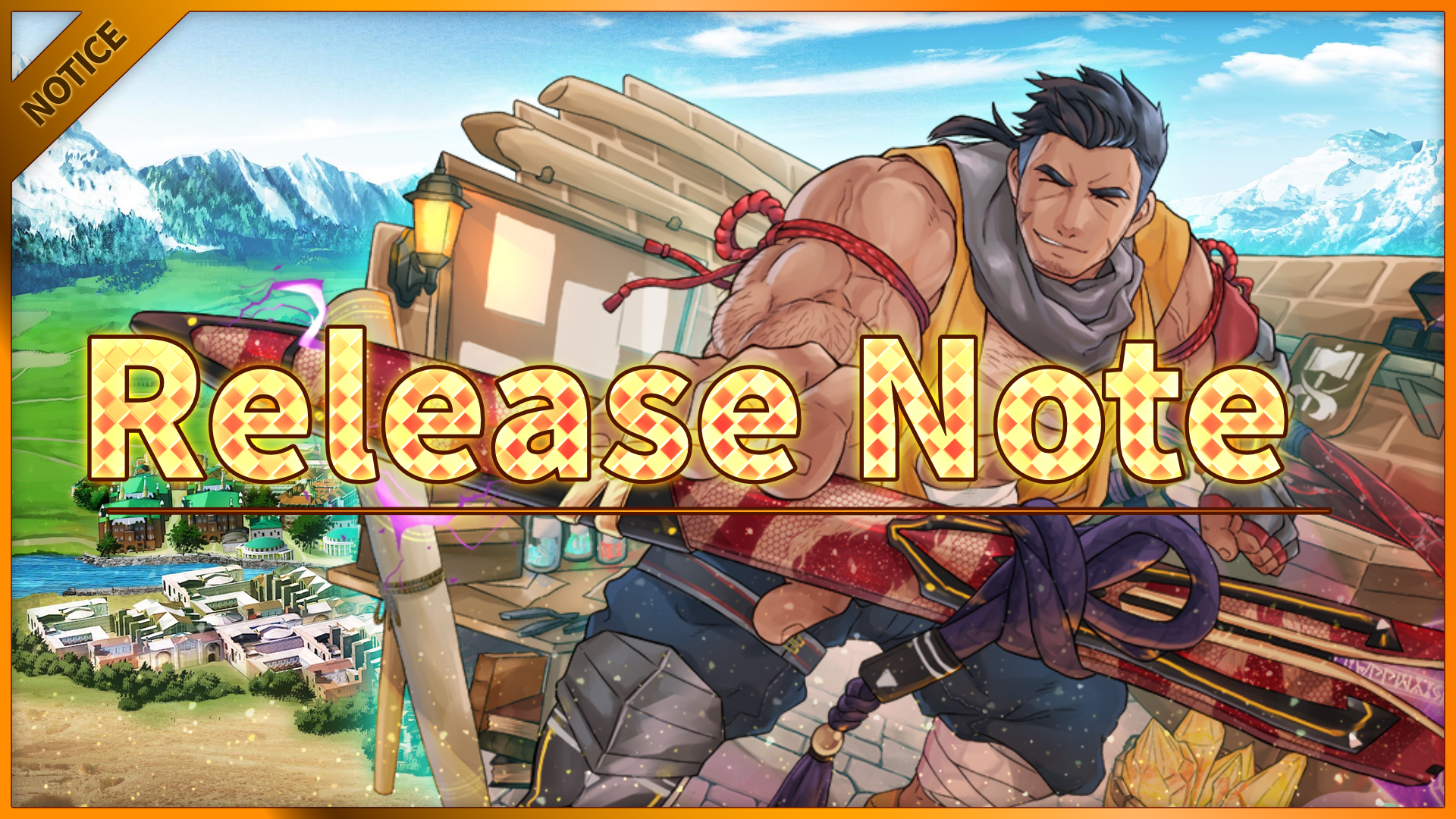 【最新更新】 2023/01/27 (Fri) 15:43
The login bonus for "We're doing it again this year! New Year's Eve Campaign!" will end as of this update.
"1st 3-6 Star Adventurer Scout Sets" and "1st 3-6 Star Adventurer Referral Sets"

will no longer be available for sale as of this update.

The stamina consumption for Exploration Quests has returned to normal.
"Adult Toy" can no longer be obtained from event quests "The Most XXX Day of the Year is Here!".
■■■New Elements■■■
<New Units>
"【Pandemonium's Demon Shogun 】Rasho" and "Kancrow" have been added!
<Events>
Quests have been added to "Spies VS Ninja! Make Your New Year Wishes at Yamato!"

Quests beyond NY-9 (Spies VS Ninja III)  will be implemented in future updates!

The amount of items in your possession can now be viewed in the Exchange.
<Battling>
Some enemy animations have been updated.
The BGM in the battle result screen has been updated.
Sound effects have been added to the start and end of battles.
<Scouting>
PU Scouting Event "Yamato Boys Are Kinda Serious! Marriage Desire to the MAX!" is now available!
<Boosting>
A button which allows you to view rank-up display has been added.

We have confirmed a bug where the Strengthen Screen is not displayed correctly after the rank-up display is played. This is expected to be fixed in the next update.
<Interaction Screen>
Added "Kagura Still#1" (Japanese and English only)
Added "【Knight of Glory】Gymnos Still#3"

This can be unlocked by possessing【Knight of Glory】Gymnos and increasing his Intimacy to 100.
■■■Bug Fixes / Changes■■■
<Battling>
Fixed a bug where 【The Yamato King Over Wind & Thunder】 Jinnosuke's nature would not activate when deployed on the battlefield.
<Illustration>
The illustration for【X-Rated Toy Hunter】Rook has been updated.
<Interaction Screen>
Additional story and illustrations have been added to "Rook Still#3".
Karetovi is now dressed in a Hakama in "Karetovi Still#4".
■■■Regarding Known Bugs■■■
We have confirmed a bug for some units where natures related to restoring HP are not triggered properly. This is expected to be fixed in the next update.

As for character "Bond" values, we are still planning to consolidate this into a sum figure for characters with the same name.
Unable to obtain content (remains under revision).

If you are experiencing this issue, we ask that you clear your cache then reboot.

Update does not proceed from "Preparing Install…" when attempting to update APK files from HabbitLauncher.

It is possible to download the latest game application (client-side) manually from the URL below.
https://habxbit.com/download/launcher/AnotherEidos.apk