Patch Notes (Ver.2.0.5 7/22/2022)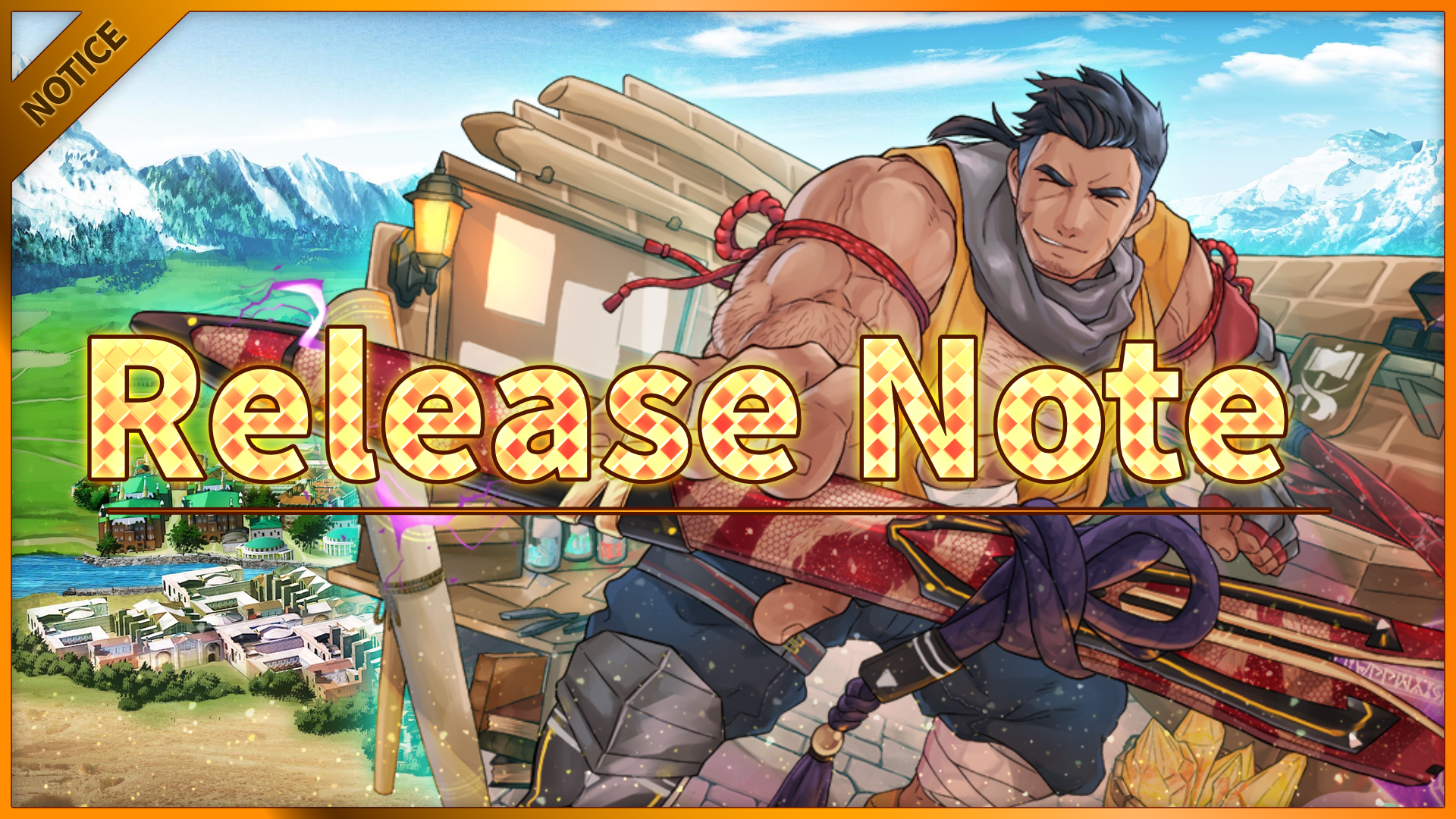 【最新更新】 2022/07/22 (Fri) 21:29
The pick-up scouting events "Relief Request from the Emperor Himself" and "Save Thy Lover from the Castle of Pandemonium!" conclude on Saturday 7/23/22 (JST).
■■■New Elements■■■
<Events>
The event "Get Fired Up for Erotic Wrestling!" has begun!

Quests beyond EW-8 "The Club Owner is a Mutt Lover II" will be added in future updates.

Certain items have become unlocked in The Exchange's Item Lineup.
"Hulk's Secret" and "Dyne's Secret" (to be released soon) have been added to The Exchange's Item Lineup.
■■■Changes■■■
<Overall>
Skill Lv. now displays in the Details panel to the left side of the Character Selection Screen.
<Battling>
Reductions have been made to the illustration data load during battles.
<Shop>
The input screen for credit card information has been expanded by being changed to full-screen mode.
■■■Bug Fixes■■■
<Overall>
Fixed bug which would cause the BGM to stop playing upon opening up the WebView version of "Notifications".
<Battling>
Fixed a bug which prevented Flet's skill from functioning as intended.
Fixed bug which would cause the game to get stuck during battle when withdrawing a support unit.
Fixed bug in which the attack range display would interfere with a section of tiles on the map, preventing the attack range to display correctly.
Fixed bug which caused an incorrect number to display in the icon for number of possible blocks when certain units would deploy.
Fixed bug in which SE settings would not be reflected on battle screens.
<Interaction Quests>
The Traditional Chinese localization of Bashkar Still #1 has been improved.
<Friends>
Fixed a bug which cause unintended wording to display on the message column of a friend's screen.
■■■Regarding Known Bugs■■■
We are still confirming the details of a bug in which limited-time version of characters are treated differently on Boosting Screens despite sharing the same Intimacy as their standard version. This is currently being addressed.
Unable to obtain content (remains under revision).

If you are experiencing this issue, we ask that you clear your cache then reboot.

Update does not proceed from "Preparing Install…" when attempting to update APK files from HabbitLauncher.

It is possible to download the latest game application (client-side) manually from the URL below.
https://habxbit.com/download/launcher/AnotherEidos.apk