Patch Notes (Ver.2.0.1 6/24/2022)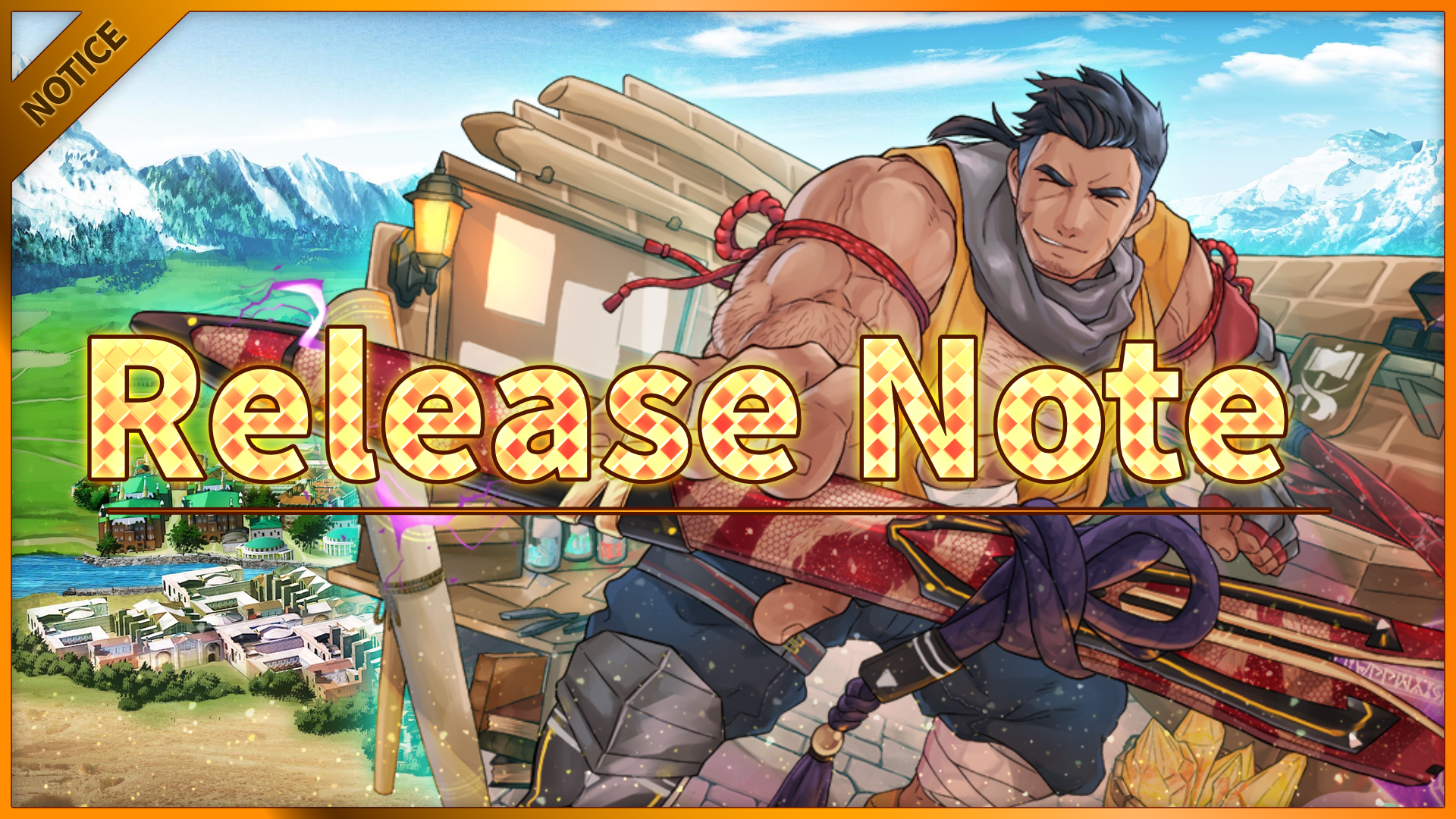 【最新更新】 2022/06/24 (Fri) 20:00
(24/06/2022 17:00)
■■■New Elements■■■
<Main Story>
New quests have been added to Chapter 2 of the Main Story of Anothereidos R!

Quests beyond 2-19 "Satisfiers of Hunger III" will be added soon.
<Login Bonus>
New login bonuses have become available for 10 days starting Fr. 6/24 and ending on Mon. July 3rd (JST) for the Half-Anniversary Campaign entitled "Thank You for This Half Year!"
<New Units>
"Half-Anniversary Amorey" and "Young Hellion" have been added.
<Strengthening > Boosting>
It is now possible to rank up the following adventurers: "Pino", "Jinnosuke", "Fu", and "Rai".
<Interaction Quests>
"Rothhart" Still #1 has been added in Japanese, English, and Traditional Chinese.
"Half-Anniversary Amorey" Still #3 has been added in Japanese, English, and Traditional Chinese.
"Young Hellion" Still #3 has been added in Japanese, English, and Traditional Chinese.

 Whether you choose the standard or limited version of a character, you will enter the same interaction screen, which also means that Intimacy and Still Unlock Progression are shared.
When possessing a limited character, Still #3 is unlocked when you raise your intimacy with said character to 100.
<Shop>
Two limited-time only items have been added: "The Half-Anniversary 6-Star Adventurer Scout Set" and the "Half-Anniversary 6-Star Partner Referral Set". 

These two aforementioned items will be available from Fri. 6/24/2022 until Fri. 7/29/2022 (JST). 
<Scouting>
The scout pick-up event "Half-Anniversary Pick-UP" has begun.
The "Partner Scout Ticket" Screen has been unlocked.

You are now able to exchange Partner Scout Tickets that you may have on this screen for character(s) of your liking.
The units that you can exchange for Partner Scout Tickets per rarity will be limited to units which have been made available as of 6/23/2022 (JST).
■■■Changes■■■
<Boosting>
Upon ranking units from Rank 1 to Rank 2, the same parameters they had immediately prior to ranking up carry over.

There is no change, though, to the max value of their parameters.
■■■Bug Fixes■■■
<Battling>
Fixed bug prevented the adventurer rank icon from displaying correctly upon selecting a unit.
Fixed bugs which prevented the skills of Thomas and Mage Goblin from activating properly.
<Boosting>
Fixed bug which caused the actual skill effect of Pino to not change at all from what it was at Lv. 1 upon increasing his skill level to Lv. 2.
■■■Regarding Known Bugs■■■
Unable to obtain content (still under revision).

If you are experiencing this issue, we ask that you clear your cache then reboot.

Update does not proceed from "Preparing Install…" when attempting to update APK files from HabbitLauncher.

It is possible to download the latest game application (client-side) manually from the URL below.
https://habxbit.com/download/launcher/AnotherEidos.apk