パッチノート (ver.1.0.3.1 2022/1/18)
【最新更新】 2022/01/18 (Tue) 08:26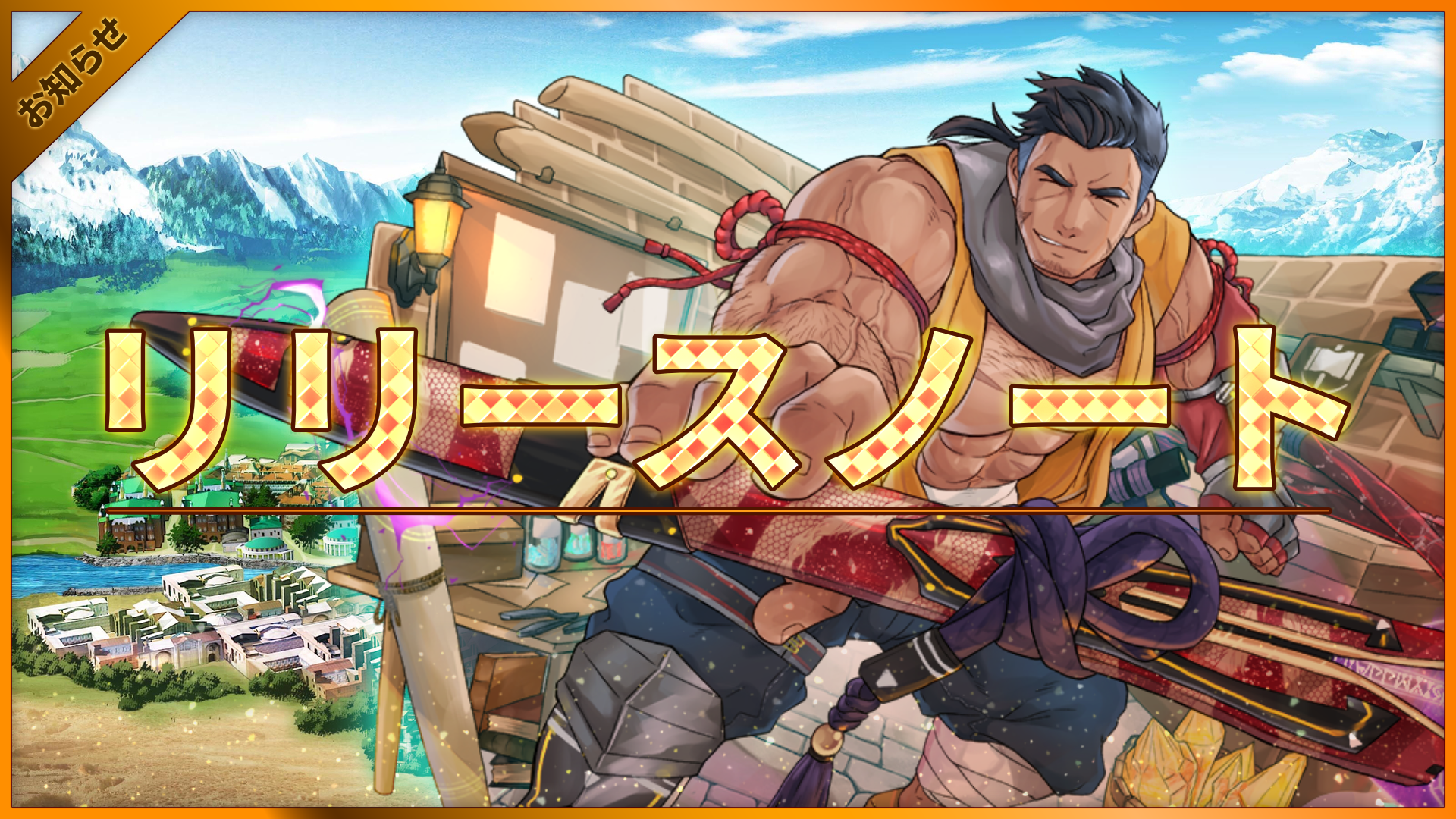 1.0.3.1 (2022/01/18/22)
■■■New Features■■■
<Interaction Events>
x1 Overall Pirate (Swordsman/Musketeer/Medic/Sorcerer) Still has been added (ENG/JPN/TRAD. CHIN).
English and Traditional Chinese added to stills for Rasho and Fu.
Added Traditional Chinese for Hanzo's still.
<Settings>
Now able to change "Username" and "Protagonist Name" from the Settings Screen.
<Battle>
For some characters, a different attack animation now plays when utilizing a skill.
<General>
A warning message has been implemented to notify the user when connection is poor.
■■■Changes■■■
The pick-up events for "The Holy Republic of Amberdon" and "The Free City of Variey" have now come to a close.
Arcana's nature and skill have been altered to be more fitting as a healer.

15,000 dracos and x13 "Battle Record III" have been issued to all adventurers in their mailboxes.

The amount of dracos obtained in the "Beginner Training Pack" has been changed from 10,000 to 100,000. 「

To adventurers who have already purchased this, 90,000 dracos have been issued to you via your mailbox.
■■■Bug Fixes■■■
Characters now display in the correct spot on the Strengthen Screen.
Fixed a bug which caused the game to freeze when certain units were sent out to attack.
Flet: Fixed bug in which his ATK Speed increase would repeat.
Large Mummy: Fixed bug affected the COST obtained via its skill.
Charlotte: Fixed bug which reduced restore amount to 0 as well as bug in which she had the wrong skill.
Goblin Rider: Fixed bug in which it had the wrong skill.
Gymnos: Fixed bug in which its nature did not function as stated.
Bart: Fixed bug in which skill points would decrease when designating a tile which cannot have a trap set there as a trap location.
Zacharoff: Fixed a skill bug.
Nitro: Fixed a skill bug.
Barboros: Fixed bug in which the game had a rare chance of freezing when transforming or when reverting to regular form.
Jinnosuke: Fixed bug in which trait and skill didn't function.
Fixed bug which affected Rasho, Hanzo, Sarutobi, Kongoh where their nature, trait, and skill did not display on the Strengthen Screen.
Fixed bug in which strengthening of the healer's recovery strength did not function.
Fixed bug in which the skill of some characters would be implemented twice.
Fixed bug in which COST would not be compensated when certain vanguards would be withdrawn.
Fixed the bug which allowed consecutive trap laying without consuming skill points with Sarutobi and Bart.
Fixed bug involving the restriction of 4-Star Challenge implementation should be impossible not functioning as intended.
Fixed bug in which the "Win" band across the screen continued to display after battle completion.
Fixed bug involving the audio upon battle completion.
Data load reduction has been implemented for post-battle.
Fixed the bug in which "NEW" would not display on the Pick-Up Screen when a character is obtained for the first time.